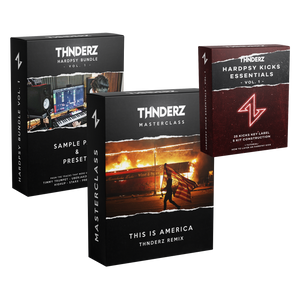 THE HARDPSY VAULT!(HARDPSY BUNDLE VOL.1 + HARDPSY KICK ESSENTIALS + HARDPSY MASTERCLASS)
Regular price
$43.21
Sale price
$21.60
---
IG Review:
**** HARDPSY VAULT IS HERE****
All that you need to have to make your next Hardpsy Banger is here!
Why I made these packs?
Really interesting question, so let me try to ask you a thing.
Do you like to lose 3 hours to find the correct sound?

I think the answer is No, right?
So now you know the reason why I made these packs, I was tired to lose hours and hours (and hours) trying to figure it out the right sounds for my track.

You know that moment when you are entering in the "zone" and you need that sound and you lose that creative flow feeling because you're in search for the Kick or the Preset that you need.

This was one of my "reason why" I created these packs!
I created these packs to improve my Studio Time & my Workflow.

When I'm producing I want only one thing = CREATE MUSIC 
And not searching around the 100GB (yeah are so much I know) Packs Folder that I have.


And what's happened after made these packs and start using them?
My speed increased a lot (Fast as a Ferrari) and I finished a ton of tracks in less time, around three songs per week!

So you have only to put your creativity into your Daw!
And finally, you'll stop searching around the sample pack for the sounds because now you have what you need to save your Studio Time!

Why you need this Pack?

1. LEARN FROM ME:

After reaching over 100k of Streams in my "This is America" Remix I decided to make a Masterclass where I explained how I made this huge track!
*This Video comes from my Patreon Page*

And in the other video, I explained "How to make an Hardpsy Kick" Step by Step.

2. SOUNDPROOF: 
The Sounds that you'll find in this Bundle are the sounds that I used for my tracks that were supported by:

-Timmy Trumpet 🔥
-Will Sparks 🔥
-Yellow Claw 🔥
-Bombs Away 🔥
-Uberjak'd 🔥
-Starx 🔥
-Asco 🔥
And many more... 

Also, my track "Rockin" that was in the "Master Of Hardpsy" reached the 2°Position on Hard Dance Beatport Chart!
3. READY TO USE

All the sounds are ready to use to speed up your workflow and to avoid time wasted
(I know that feeling  when you search for the right kick or bass and sometimes It takes hours, but now you'll have the key to avoid this problem!)
What you'll have from this Pack: 

1 - HARDPSY MASTERCLASS 🔥 
Where I explained how I made my remix of "This is America" Step by Step and that track reached a ton of support and over 100k of streams!

2 - HARDPSY KICK ESSENTIAL VOL.1: 

-26 Hardpsy Kicks (25 Hardpsy Kicks key label + 1 Hardpsy Kicks from the Tutorial)
-5 Construction Kits ( 5 Kits where you'll see the sounds that I used to make them)
-1 Tutorial (Where I'll explain How to make an Hardpsy Kick and How to use the Eq to avoid kick and bass problem)

3 - HARDPSY BUNDLE VOL.1: 

- 30+ KICK (Hardpsy Kick made by me, Hardstyle, Raw and Top Kick)
- 60 Psy Bass with Key made by Me
- 60 Reverse Bass with Key made by Me
- 25+ Serum Preset (Screech,Rave Lead & Pad)
- 20+ Drums (Claps,Build Up,Snare,Percussion etc.)
- 100% Royalty-Free
And a lot more


So with the Hardpsy Vault you gonna:

🔥 Speed up your workflow
🔥 Use High-quality & Tested Sounds
🔥 Create Hardpsy Banger

Grab your copy and smash your next banger!

Ps.
If you need feedbacks for your track, send it to my email: thnderzofficial@gmail.com